Sun tea is a hot weather staple here in Pennsylvania and so I was surprised when I found out that His Canadianness (a.k.a. Glitch) had never heard of it.
Brewed using sunshine, sun tea is cheap to make and perfect when the temperatures climb to siesta levels. Considering the only power used is solar I suppose you could even call it eco-tea but calling it 'green tea' would just be confusing. (The sunshine is optional but we'll get to that later) Raspberry and peach are two of my favorite flavors.
Making your own fruited sun tea is easy and cheap.
A gallon of drinking water
a gallon-sized glass jar
teabags
frozen fruit juice concentrate of your choice
You can use a sun tea jar which features a spout for easy pouring and a lid that vents and features a wimpy handle if you want. These usually cost more than my 50-cent pickle jar, though.
1.) Pour most of the water into the clean glass jar. I use Luzianne teabags which say they're made for iced tea. I'm not sure what would make them specifically better for iced tea but generally they are inexpensive which is good when you're using nine bags per gallon.
2.) Place nine teabags in so that the little tags hang over the edge of the jar and then fill up the rest of the way with the remaining water. This is just to quell the annoying tendency of the bags to float when they're dry.
3.) Put the lid on to discourage curious bugs or thirsty pets and place in a nice sunny spot outside for about four hours.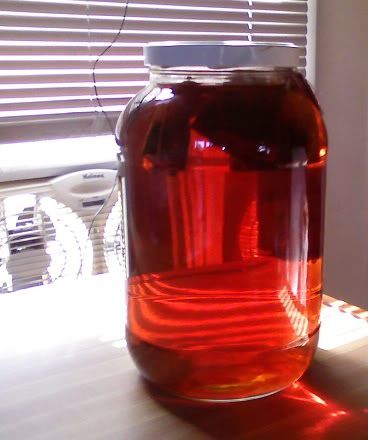 NOTE: I mentioned that sunlight isn't strictly necessary. My mom makes a version of this where she sets up the water and teabags and simply lets them steep overnight. I think that deserves the name Night Tea and it sounds like something that should include blackberry juice. I'll let you know when I try the Black Nightea!
4.) Bring your nice amber-colored jar of sunshine in the house and cackle with glee. Remove teabags and throw away, they can go to your compost pile if you have one.
5.) Ladle a little of the tea out into a different container to make room for the juice. I usually pour this into the empty plastic water jug with a funnel because I am going to transfer all the tea there anyway.
6.) Add the fruit juice concentrate to the jar of tea. I prefer to use all-juice varieties with no added sugar. Stir and cackle some more.
7.) I like to transfer the tea to an empty plastic water jug with a handle so that it's easy to pour. It depends how committed you are to future convenience and whether you have a funnel. It helps to have a ladle as well as trying to tip the jar and hit the funnel can have disastrous results until the tea level in the pickle jar is lowered a little.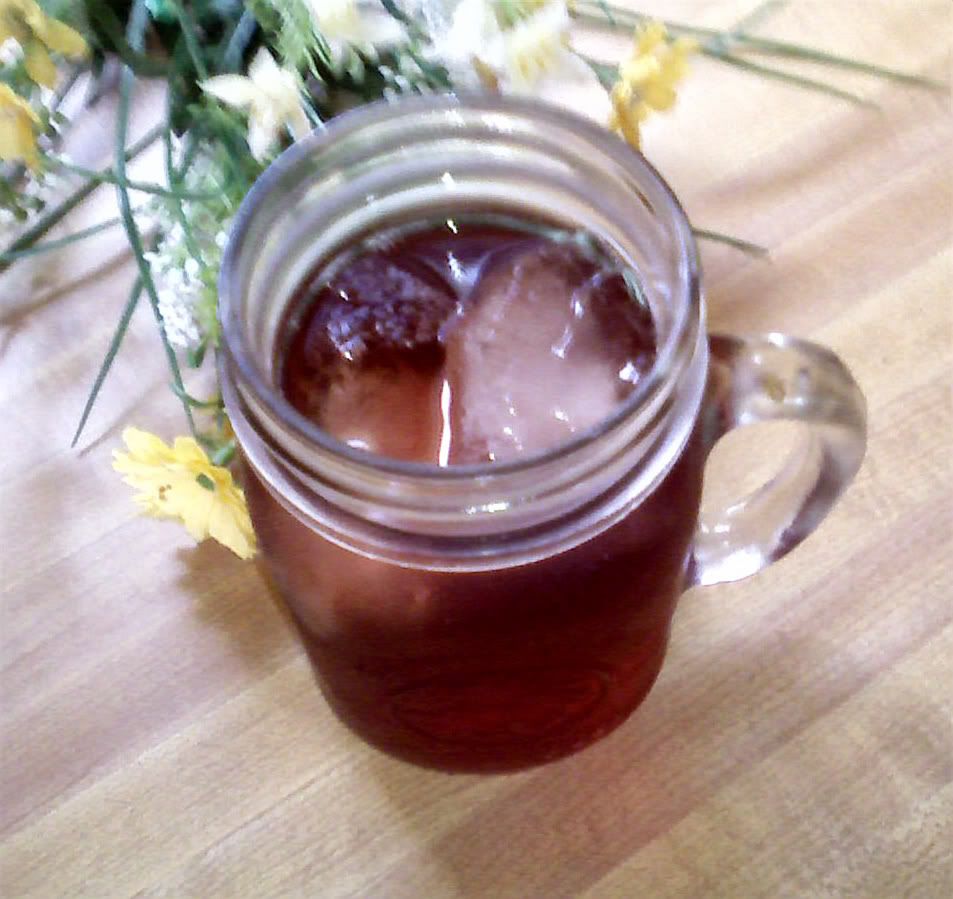 8.) Pour the tea over a glass of ice, find a hammock in the shade and swing gently.
It's time to enjoy summertime!
Okay so in the REAL WORLD I pour the tea over ice and thankfully drink it in between carting laundry around, chasing kids, writing, and otherwise looking for trouble but if you can find a hammock...go for it!
~Glyph out